Witlof for kids - 07 / Jan / 2023
Is dit dekentje niet te warm?
Het mag dan officieel winter zijn, maar heel erg koud is het niet. En hoewel het kamertje van je kindje ook niet heel erg koud aanvoelt, ben je misschien toch geneigd een dikkere deken te gebruiken. Maar hoe weet je of het dekentje dat je gebruikt niet te warm of te koud is voor je baby? Je leest het hier.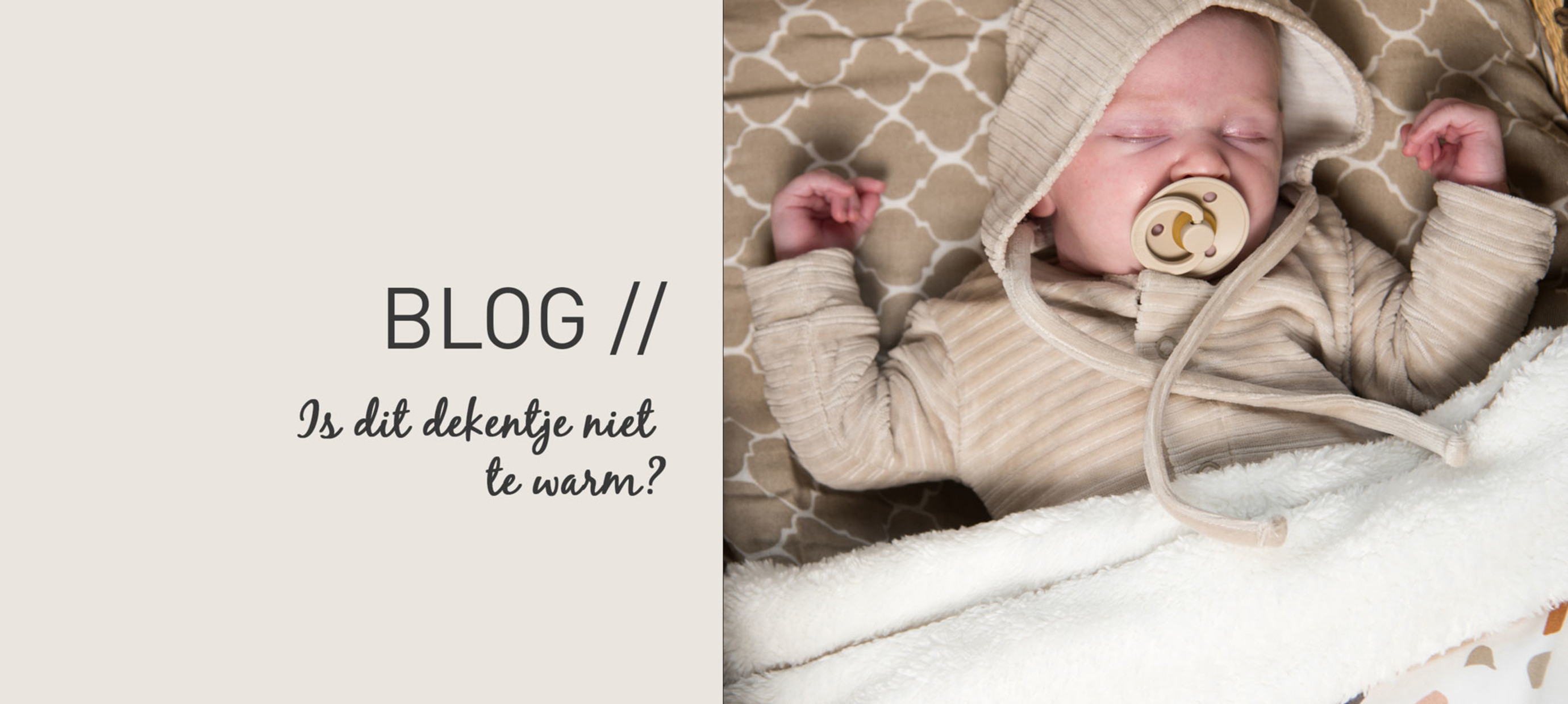 Of een dekentje warm genoeg is voor je kindje, hangt onder andere af van de kamertemperatuur waar je baby slaapt. Een goede leidraad is de dikte van de deken. Voor alle soorten dekens geldt: hoe dikker de deken, hoe warmer deze is. Laat je niet leiden door het gewicht van de deken. Vooral synthetische dekens zijn zeer licht, maar ze zijn zeker niet minder warm! De isolerende werking van synthetische, wollen en katoenen dekens is vrijwel hetzelfde.

De betere merken hebben hun dekentjes vaak laten testen op TOG waarde. TOG staat voor Thermal Overall Grade en is een waarde die aangeeft in hoeverre bijvoorbeeld een dekentje, lichaamswarmte vasthoudt. Hoe hoger de TOG, hoe warmer het dekentje. Om daarin een balans te vinden, kun je de TOG waarden van kleding en beddengoed bij elkaar optellen. Let wel, de TOG-waarde is slechts een hulpmiddel. Omdat elke baby anders kan reageren op toedekken en kleding, is het belangrijk om het comfort goed te blijven controleren aan hals en voetjes (huid mag niet klam of koud aanvoelen).

Bij Witlof for kids vind je de TOG waarde van een dekentje in de productomschrijvingen op de website én op het waslabel. De dekentjes zijn getest bij enkel én bij dubbel gebruik. Zo weet je ook als je het dekentje dubbel slaat hoe warm deze is.

De fijne en handige Witlof for kids Tuck-Inn dekentjes in diverse diktes en materialen shop je hier >>
Fijn om te weten: de Witlof for kids Tuck-Inn wiegdekentjes, gebruik je lekker lang omdat ze ook als Maxi-Cosi deken gebruikt kunnen worden!

Meer informatie over TOG en veiligheid, vind je hier >>